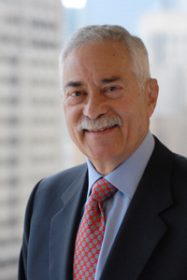 Irwin Press
Operating Director
(312) 494-9800
Irwin Press is a recognized expert in the field of patient satisfaction research for healthcare companies.  In 1985, when he was a Professor of Anthropology at the University of Notre Dame, Irwin developed a survey to measure patient satisfaction as a means to improve healthcare performance.  This survey became the basis of Press Ganey Associates, a company Irwin co-founded with Rodney Ganey, who was also a professor at the University of Notre Dame.
Today, Press Ganey is the global leader in patient satisfaction research, providing performance solutions designed to improve clinical and business outcomes to more than 10,000 healthcare organizations worldwide.  In the United States, Press Ganey works with 50 percent of the nation's hospitals, which in turn account for 66 percent of all U.S. hospital admissions.  Press Ganey's healthcare solutions are designed to help improve quality, maximize productivity, optimize reimbursement and increase market share.
Since retiring from Press Ganey, Irwin has authored Patient Satisfaction: Understanding and Managing the Experience of Care and has been a contributor to Modern Healthcare magazine.  Irwin is a member of the American College of Healthcare Executives and the Society for Medical Anthropology.  He serves on the Quality of Care Committee at Rush University Medical Center and is a Trustee of the Chicago Symphony Orchestra.  Irwin lives in Chicago with his wife Andra.
PREVIOUS EXPERIENCE
University of Notre Dame
Press Ganey Associates
EDUCATION
B.S.   Northwestern University
M.A.  University of Chicago
Ph.D.  University of Chicago